PRODUCT DESCRIPTION
Small scanner, big impact ... Fits into your life, on any desk
The modern way of working can be full of surprises, and we can all find ourselves working in tight spaces and new places.
The smart and ultra-compact iX1300 is designed to fit into any office desk or home office setup, helping you stay productive wherever life takes you.
Simple, Practical and Efficient
The iX1300's innovative feed path creates a tiny operational footprint that makes it our smallest desktop scanner yet. Instant Wi-Fi connectivity and PC-free scanning to cloud services using ScanSnap Cloud are all part of a smarter way to work.
The iX1300 is packed with time-saving features to boost efficiency; with no wait time to warm up, you are ready to go in seconds. Plus, the Return Path capability means you can instantly scan individual sheets without even opening the cover. And a 20-sheet feeder and impressive 30 double-sided pages per minute speed let you finish scanning in no time at all.
The intuitive ScanSnap Home software (included) helps you easily convert the papers you have, into the digital files you need. Giving you greater control over your admin so you can focus on what matters most.
There's plenty of personal productivity packed into our most practical scanner yet, ensuring the iX1300 makes paper work for you and your business.
Practical productivity
Return path scanning
With ScanSnap you don't need to know IT – just how to press a button. And, with the iX1300, you don't even need to open the cover.
The return path scanning mechanism means you can instantly scan both sides of individual sheets or booklets up to 2mm thick simply by feeding them in and pressing the Scan button.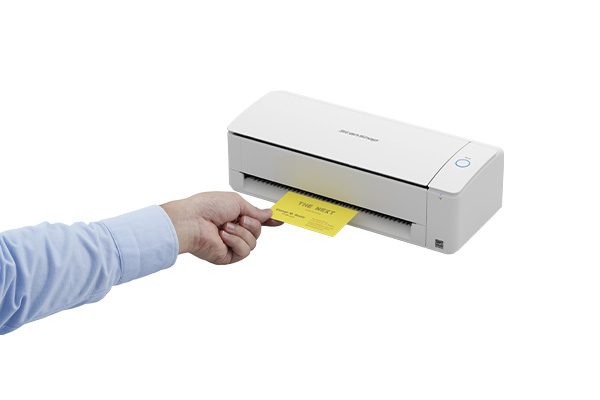 U-turn feed path
The iX1300 is our most compact desktop scanner. The extremely small operational footprint is thanks to the innovative U-turn feed path which means there is no rush to move things out of the way to extend a paper tray when you need to scan multiple sheets – saving you time, and space.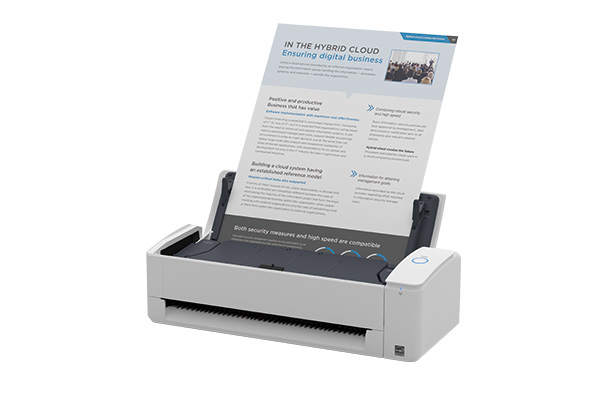 Wi-Fi connectivity
Instant Wi-Fi connectivity and PC-free scanning let you quickly set the iX1300 up, and scan directly to your preferred cloud services or our mobile app. Or you can still scan directly to PC.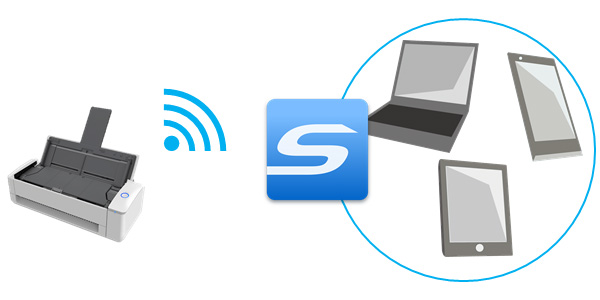 Standard, editable output files
Boost productivity with the iX1300's ability to save your documents in a range of formats including PDF and searchable PDF, editable MS Word, Excel and PowerPoint files, or JPEG. A practical feature that provides flexibility when working with your digital files.
Boost Efficiency
Quickly scan multiple sheets
Being efficient is a top priority in the modern world and the iX1300 delivers.
An impressive scanning speed of 30 double-sided pages per minute and an Automatic Document Feeder that holds up to 20 sheets means you can reliably scan whatever you like in no time at all - quickly getting you back to the more important things in your life.
Custom file tagging
With custom file tagging you can add your own tags to scanned document files with minimal fuss – making it easier and faster for you to search for, find and retrieve them at a later date.
Intuitive ScanSnap Home software
The intuitive ScanSnap Home software (included) helps quickly and easily convert the papers you have into the digital files you need, giving you greater control, and helping you focus on what matters most.
From automatic classification according to document type, image optimisation and final file distribution, to assisting you to manage and edit scanned data from documents, receipts, business cards, photos, and more, ScanSnap Home takes the stress out of organising and finding what you need.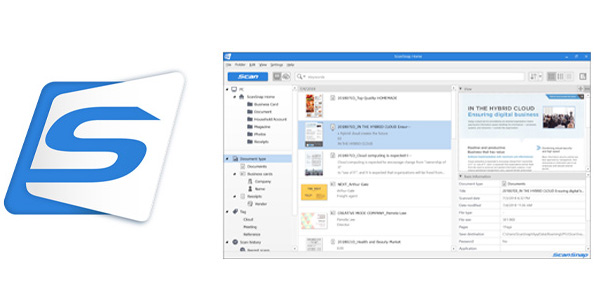 User Experience
Simple setup
With the iX1300, there are no complex settings or TWAIN protocols to deal with. Easy setup via Wi-Fi or from mobile creates a simple, user-friendly setup experience.
No warm up time
When you've got something to scan you don't want to be left waiting around wasting time.
In addition to the one-touch scanning experience ScanSnap users are used to, the iX1300 doesn't need any time to warm up and has a streamlined scanning process that allows you to go from start to scan in just two or three steps.